This Week on the Hagmann and Hagmann Report…
Monday April 3, 2017
7:00pm-8:00pm EDT Join us this evening for news and analysis live from the Hagmann Studio.  As the Russians deal with a horrific mass casualty event in St Petersburg and North Korea pops off in a manner that Secretary of State Rex Tillerson flatly stated will no longer be permissible under the new President Trump Administration, there is sufficient news to deal with that is of insomnia profundity.
We are excited to welcome debut guest Matt Bracken, prolific author, former USN SEAL and Infowars commentator.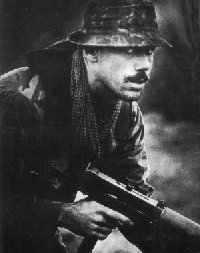 Matt Bracken was born in Baltimore, Maryland in 1957 and graduated from the University of Virginia in 1979 with a degree in Russian Studies.
He was commissioned in the US Navy through the NROTC program at UVA, and then graduated from Basic Underwater Demolition/SEAL training class 105 in Coronado California. He served on east coast UDT and SEAL teams, taking a Naval Special Warfare detachment to Beirut in 1983. Mr. Bracken left active duty after Lebanon, upon completion of his obligated military service, but he remained in an active reserve status through the remainder of the 1980s. Since then he has lived in Florida, Virginia, South Carolina, Guam and California.
In 1993 Mr. Bracken finished building a 48-foot steel sailing cutter of his own design, on which he has done extensive ocean cruising, including a solo voyage 9,000 miles from Panama to Guam and two Panama Canal transits.
Matt is a self-described freedomista who loves ocean sailing for the pure freedom it often permits. He is a constitutionalist who believes in the original intent of the founding fathers of our country. He lives with his family in North Florida and longs for the wide blue ocean.
Matt Bracken is a widely loved writer as well.  His publications include: Enemies Foreign and Domestic, Domestic Enemies, Foreign Enemies and Castigo Bay.
Matt writes the following as a personal introduction to his work as a writer:
I began writing Enemies Foreign And Domestic in 2000, after too many years of watching our constitutional republic morphing into a police state. These novels, based upon nearly a half century of carefully studying historical patterns, are my attempt to shine a light forward in time. My goal is to warn my compatriots that we are inescapably losing our freedom, one ratchet-click at a time.
The Muslim terror attacks on 9-11 kicked the process into high gear. But instead of new laws targeting our actual enemies–radical Islamists bent on the global spread of their Sharia Law nightmare–the new police powers were aimed equally at all Americans. Projecting forward, the inevitable outcome will be to turn the United States into a dictatorship–the USSA, if you will.
The federal government, under the rubric of fighting a generalized terror threat, has for many years been providing local police departments with high-grade military weapons, equipment and training. The quid-pro-quo for this federal largesse is unquestioning local cooperation with federal law enforcement agencies, turning thousands of local police SWAT teams into force multipliers for burgeoning federal police power. In the name of fighting a murky and undefined "war on terror," we have allowed the creation of a militarized national police force, something which our Founding Fathers explicitly warned us against and tried their best to prevent.
During the same period, our debt-based economy has nearly reached the bitter end of the fiat-currency road. It is only a matter of time until America experiences an economic crisis on the level of what is currently taking place in Greece, or even far worse. If and when federal entitlements, food stamp payments, housing allotments and all the rest are curtailed, I believe our major urban areas will explode in riots beyond anything America experienced in the 1960s. This will cause a breakdown in the national distribution of food, fuel and other commodities necessary to sustain life. At that point, some form of martial law will be put into effect, and our newly-militarized national police forces, along with active-duty military units, will be called upon to "restore order." In so doing, the last nails will be hammered into the coffin containing our legacy of American freedom.
Obviously, I don't desire to see this happen, but if such an outcome is preordained, I want at least to shine a beacon into the future. My goal is to provide my readers with some possible alternatives that will be less horrible than the worst-case scenarios, which otherwise shall be arrived at by chance and happenstance.
This is why I prefer to write what I call semi-dystopian novels, set in the near future. The post-apocalyptic genre has been beaten to death, and life in the rubble at a bare survival level provides few practical lessons. To me, the slide is more instructive than the post-collapse period. The often-repeated historical process of economic collapse and the loss of freedom is what interests me the most, and that is why I am driven to write these novels. I hope that you enjoy them, and that you gain some insights which might prove of value during the tumultuous years ahead.
8:30pm EDT Radio host and Senior Editor of Courtroom Watch, Eric Hughes Jones will make his debut appearance with premiere father/son investigative team, Douglas J Hagmann and Joe Hagmann to discuss and analyze the recent incarceration of previous Hagmann Report guest, citizen journalist, Gary Hunt.
Gary Hunt was arrested by US Federal Marshals at his home in California due to a bench warrant signed by Federal Judge (Oregon) Anna Brown.
The warrant is for a failure to appear in Judge Brown's court to show cause for Mr Hunt's refusal to redact the names of FBI confidential informants.
Under most circumstances, publishing the names of "C.I.'s" is a potentially life threatening move; particularly in drug cases where retribution against "snitches" is often dealt with swiftly and permanently.  
However these FBI rats testified in a public hearing that they were paid $25,000 apiece in order that they perpetrate being members of the patriot group who occupied the Malheur Wildlife Refuge in Burns, Oregon in late 2015-early 2016.
This occupation and subsequent "stand-off" resulted in the FBI/Oregon State Police MURDER of Robert "LaVoy" Finicum in January of 2016.
If journalists cannot cover public courtroom proceedings, without fear of tax payer funded incarceration, then we may as well fold NBC, CBS, ABC and CNN into one big MSNBC pile and rebrand it Pravda because freedom of the press is dead.
Eric Hughes Jones will spend two segments with Doug and Joe dealing the broader implications of the recent arrest of Gary Hunt.  The bottom line is that the Federal Government of the United States has demonstrated time and again that they have zero problem with jailing journalists who dare tip the government subsidized, fake stream media narrative.
Here is a brief summary of what Mr Jone's primary website Courtroom Watch is all about:
COURTROOMWATCH's mission is to make the justice system more effective and  responsive in handling cases and to create a more informed and involved public with an accountable, fair and transparent criminal justice system.
Court monitors are assigned to various types of hearings and have the opportunity to observe multiple 
Volunteers obtain first-hand experience in the courtroom and become familiar with judges and prosecutors.
Volunteers are assigned to a variety of hearings including sentencing, jury trials, felony arraignment, DV court, omnibus hearings, probation violations and OFP hearings.
9:30pm EDT Doug and Joe will offer a final half hour of analysis as we attempt to make sense of the strange mess that our world has created.
Tuesday April 4, 2017
7:00pm EDT Join father/son investigative team, Doug and Joe Hagmann for a half hour of news, analysis and commentary live from the Hagmann Studio.
7:30pm EDT  Welcome debut guest, Brock Swinson.  Brock Swinson is a freelance writer and editor in Winston-Salem, North Carolina, where he lives with his wife, Jessica.
Over the years, he's worked with a series of start-ups and businesses such as The Rogue Valley Messenger, eBay, FoodTank, Creative Screenwriting Magazine, Tokii, Carolina Monthly, and is also a current political contributor at Monday Monday Network.
Here's a little bit about Brock in his own words:
Within politics, I've been a silent spectator for over a decade now. While working a string of odd jobs—commercial production, editor in chief of two publications, leasing consultant, and small business owner—I've watched our country drown in regulations while the spirit of capitalism hemorrhaged on the wayside.
Trump & Conquer began as a small publication with the goal to help fight the mega-conglomerate that is the Leftist Media. It's no wonder today's Liberal has collectively lost their mind after the ticking-time-bomb Hillary Clinton let on the world during her distasteful campaign. Hillary's unsighted crookedness has caused the formerly sheepish Left to fight what they believe to be hated with actual hate.
With Donald Trump's victory, it's clear that those who have been silent now have a voice. The American people chose President Trump and his win will not be delegitimized by the Leftist Media, despite their refusal to call him President. Regardless of these actions, the silent majority now has a voice for the people.
President Trump has already made good on many of his campaign promises and his ability to run the country like a business is exactly what America needs. Those who stand behind the President of the United States should not feel fear for their beliefs. In many ways, we are David fighting Goliath, but as such, each stone that we cast at the Leftist Media needs to be concentrated and direct.
8:00pm EDT  Andrew Kerr, citizen journalist extraordinaire and Senior Editor of the Citizen's Audit checks in for part two of his ongoing investigation into the massive Wikileaks data dump known as Vault 7.  If you missed the first installation of Andrew's investigation on the Hagmann and Hagmann Report, simply click here.
8:30pm EDT  Twitter investigator and internet forensics sleuth, Angela Warren, will stop by to update us on the pedogate story as well as give us her take on the ongoing censorship that is not only hampering those who are trying to defend the defenseless but is in fact aiding and abetting those who are trafficking in children, raping them and in many cases murdering them.
Angela was recently featured on the The Red Pill Report and you can hear that interview here.
Also, if you missed Angela's back-to-back appearances on the Hagmann Report last month, simply click here and here.
9:00pm EST it is time, once again, for Tuesdays with Stan.  Stan Deyo is an international speaker on myriad topics including: the location of the Garden of Eden, ancient archeology and the deep state New World Order Agenda.
Stan's wife, Holly, is the author of one of the top shelf prepper books of all time, Dare to Prepare.
Wednesday April 4, 2017
7:00pm EDT Join father/son investigative team, Doug and Joe Hagmann for a half hour of news, analysis and commentary live from the Hagmann Studio.
7:30pmm EDT  It has been too long since we welcomed former flight attendant and hugely popular and prolific writer, Rebekah Roth to the Hagmann Studio.
Rebekah's website Read Roth, notes the following:
For over fifteen years the general public has asked these questions: What did professional airline and aviation experts know about 9/11? What did they see and how did they feel about the event that changed aviation forever? What did airline insiders know? How did an unrelated ragtag team of middle easterners manage to hijack four commercial airliners? If the planes didn't really fly into the towers, pentagon and disappear into the ground at Shanksville, what happened to them? What happened to the passengers and crews? How did cell phones work at cruise altitude?

Retired senior flight attendant and international purser Rebekah Roth along with a team of aviation experts  and a terabyte of freedom of information act data, uncover shocking details never before discovered.  Using her career experience as background, Rebekah Roth has woven the new findings into exciting page-turning novels that tell a story that clearly proves 
truth is indeed stranger than fiction. 
You may never believe any news presented on your television after reading this trilogy.
I returned home on a flight from Rome where I was the purser for a major airline not many hours before the news of 9/11 hit. I had been a flight attendant for 28 years at the time and awoke to see a plane fly into the south tower of the World Trade Center. I may have been groggy, jet lagged and generally out of sorts, but I knew from training and experience that airplanes do not fly through buildings. Over the next 72 hours I remained glued to the television watching and listening in disbelief at what I saw and heard.

Every flight attendant knew in 2001 that cell phones did not work at altitude. Flight attendants attempting to report that their plane was being hijacked would never call reservations or operations. That would be like calling Hertz to get your car repaired. Things were not adding up for me and worst of all none of the hijacking protocols that are drilled into every pilot and flight attendant every year during reoccurring training had been followed. I knew something was not right, but it was too painful to explore and I found comfort in simply not knowing. I left the airline shortly after 9/11 and pursued other opportunities, yet I always knew that someday when I could balance the inconsistencies with the pain they engendered I would get to the bottom of what really happened that day.

When the time was right I began to look at the occurrences of that fateful day from my perspective as a career flight attendant. I studied, dug, researched and questioned every aspect and angle of the events as they had been reported and what I found was so horrific I literally became ill. As the pieces began to fit together I decided to incorporate them into a novel allowing for plausible deniability to protect me and yet at the same time allowing me to expose the horrendous truth that must now be shared.
We are honored to welcome back Rebekah Roth, who writes from a point of view unlike anyone else who has chosen to tackle the miasma of fallacies that culminated in the deaths of over 3,000 Americans on September 11, 2001.
8:00pm EDT -10:00pm EDTPastor David Lankford. straps on his Biblical Battle Rattle.Pastor Lankford is the founder of the Voice of Evangelism and the official pastor at Team Hagmann.
David Lankford is a servant of the Lord, scriptorian, dynamic preacher and excellent speaker. He is the host of "The Voice of Evangelism," an international radio program and available for revivals, crusades, mission trips and can fill in for pastors on the weekend if they need to be away.
Before his recent resignation as pastor of The Derita Church of God, in Charlotte, North Carolina where he served for over 15 years he held the office of State Evangelist for 7 years.
Following a one year sabbatical, Pastor Lankford surrendered his credentials in 2002 with the Church of God, Cleveland, Tenn. and in that same week planted a new non-denominational Church called Family Worship Center, along with an A.C.E. Christian School in Stanley, N.C.
The church completed its second phase in August 2008 with a new 12,000 square foot worship center.
Pastor David Lankford is no longer pastoring but has felt the calling of God leading him back into full time evangelism. He is presently fulfilling the position now as a full time "Evangelist". Great things are presently happening.
Pastor David Lankford is an old-fashioned, anointed man of God who the Lord is greatly using in this hour to proclaim the word, make appeals for true repentance and to help bring healing into the body of Christ. He is known as a student of the word and quotes many scriptures in his messages. He is a man of prayer, fasting and spiritual integrity. His devotion and demeanor naturally cultivates a desire in the lives of others to serve the Lord wholeheartedly. He will be a blessing to any congregation he is afforded the opportunity to minister. The Voice of Evangelism is an International Christian radio ministry that is heard around the world. The International Radio Ministry began July 6, 1998.
Thursday April 6, 2017
7:00pm EDT join premiere father/son investigative team, Douglas J Hagmann and Joe Hagmann for a half hour of news and commentary live from the Hagmann Studio in North West Pennsylvania.
7:30pm EDT
 It is time to talk prepping.  Has the "Trump Train" intoxicated the average American prepper with the lie that there are no longer guaranteed problems facing our country?  Join Doug Hagmann, Joe Hagmann, Jon Robberson and maker of the
Minute Man Rocket Stove, Lane Miller
, for an information packed half hour that will immediately put new tools in your number one prep: your mind.
8:00pm EDT
We welcome return guest,
I.Q. al Rassooli.
IQ al Rassooli, Iraqi-born Islam expert/scholar and author of the Trilogy, "Lifting the Veil," discusses the recent London "hacking" murder and the gradual Islamization of Europe, suggesting ways to deal with the Muslim enemy amongst us.
When asked some baseline questions about the ongoing Middle East crisis, Mr Rassooli noted the following:
Q. Why is there a "problem" in the Middle East?
A. Because the vast majority of Arabs (and many other people in the world who have been persuaded by them) would like to destroy a tiny country and if possible somehow make all the non-Muslim people living there (i.e. about 80% of its population) somehow disappear. The problem is the country has a perfectly valid right to exist and the people living there are fairly determined not to just disappear!
Q. Can this "problem" be solved?
A. Yes, but not until the Arabs of the Middle East start accepting the reality and truth of the situation as well as back down from their murderous and unreasonable goals of trying to destroy a perfectly valid (though rather small) neighbouring state that happens to have people living in it.
Friday April 7, 2017
Founder of Health Masters, Dr Ted Broer will check in with the latest on getting your body, mind and spirit prepared for the global economic reset, a potential American Spring and possible shortages of basic food and hygiene necessities.
Tonight, at 7:00pm EST, father/son investigative team, Douglas J Hagmann and Joe Hagmann welcome longtime friend and dedicated sponsor of the Hagmann and Hagmann Report, Dr Ted Broer.  Dr Ted is the founder of Health Masters and the host of The Ted Broer Show, which airs immediately after the Hagmann Report on the Global Star Radio Network.
We are headed for challenging times and your present physical condition, and that which you carry on you, is Assessment Zone 1 in a survival situation.
Proverbs 22:7 informs all of God's children to prepare oneself and one's family, as only a fool fails to do so.  So many of us are guilty of stocking up on gear, guns and gold and ignoring the most obvious, natural start point for any preparedness minded person: your health.
9:00pm EDT Be sure to stick around for a mission critical debrief on all of the news, topics and guests presented this week on the Hagmann and Hagmann Report.
                                                  Saddle for Battle

Folks, may the Lord bless you with a powerful and productive day.  This month we continue to ask that all of our loyal Global Star Radio Network listeners and Blog Talk Radio listeners take a moment to visit the Official Hagmann and Hagmann Report YouTube Channeland subscribe.  If our loyal listeners will cruise over to YouTube and subscribe, our numbers would, overnight, give us the leverage that we need to mitigate some of the bald faced censorship that we are currently stuck dealing with everyday.
As always, on behalf of Team Hagmann, we thank you for your continued support, trust in us and most importantly, your prayers, as we navigate these crazy days together.  Saddle for battle.  The Hagmann and Hagmann Report is available every Monday through Friday at 7:00pm EST on three live platforms.
Jon Robberson is the Producer of the Hagmann and Hagmann Report.  Follow him on Twitter.