Monday May 1, 2017
Tonight on the Hagmann and Hagmann Report…
Beltane was one of four Gaelic seasonal festivals: Samhain , Imbolc, Beltane and Lughnasadh. Beltane marked the beginning of the pastoral summer season, when livestock were driven out to the summer pastures.[5][6] Rituals were held at that time to protect them from harm, both natural and supernatural, and this mainly involved the "symbolic use of fire".[5] There were also rituals to protect crops, dairy products and people, and to encourage growth. The aos sí (often referred to as spirits or fairies) were thought to be especially active at Beltane (as at Samhain)[5] and the goal of many Beltane rituals was to appease them. Most scholars see the aos sí as remnants of the pagan gods and nature spirits.[7] Beltaine was a "spring time festival of optimism" during which "fertility ritual again was important, perhaps connecting with the waxing power of the sun".[2]
The earliest mention of Beltane is in Old Irish literature from Gaelic Ireland. According to the early medieval texts Sanas Cormaic and Tochmarc Emire, Beltane was held on 1 May and marked the beginning of summer. The texts say that, to protect cattle from disease, the druids would make two fires "with great incantations" and drive the cattle between them.
7:00pm EDT  Join Douglas J Hagmann and Joe Hagmann along with longtime friend of the Hagmann Report, Russ Dizdar.  Russ will interpret and teach on the deeply occultist relevance of May First (as described above) Beltane.
It has been awhile but he is back with us tonight: Mr Russ Dizdar, Host of Shatter the Darkness.
Coming out of the 60's into the 70's Russ was a rock n rolling bar fighting seeker, consuming drugs/alcohol and searching through every door he could to find meaning. He was a dabbler in dark occultism and a practitioner of golden Buddha meditation where he was trained in astral projection to seek the ascended masters…. Russ says "I sought to experience anything  spiritually, supernatural and alternative I could …..to find what it was I was looking for." But I didn't, instead I found myself on the edge of death and hell itself…. see more in the upcoming autobiography 'Once Blind'.
R
uss Dizdar, started out in the AOG Church, was licensed to and then Ordained to the ministry October 1978 reformation Sunday at Green Baptist Church by the SBC. He has served as Sr. Pastor of 4 churches over a 30 year period. He was also Ex. Director of Greater Akron Youth For Christ, a Police Chaplain UNIT 78 UAPD. He is (1982) Founder and now directs Shatter the Darkness and Preemption Broadcast (The Ragged Edge Radio Broadcast) (2008). He has preached in Churches and conferences across the USA, held training seminars and loves to do crusade evangelism. He has launched web sites and broadcasts messages that have been heard and downloaded in over 150 countries. The internet sites with the free teaching/seminar audio courses have been downloaded over 19 million times (MP3s).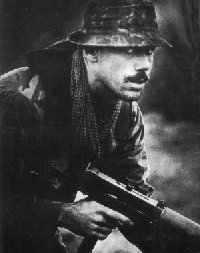 Matt Bracken was born in Baltimore, Maryland in 1957 and graduated from the University of Virginia in 1979 with a degree in Russian Studies.
He was commissioned in the US Navy through the NROTC program at UVA, and then graduated from Basic Underwater Demolition/SEAL training class 105 in Coronado California. He served on east coast UDT and SEAL teams, taking a Naval Special Warfare detachment to Beirut in 1983. Mr. Bracken left active duty after Lebanon, upon completion of his obligated military service, but he remained in an active reserve status through the remainder of the 1980s. Since then he has lived in Florida, Virginia, South Carolina, Guam and California.
In 1993 Mr. Bracken finished building a 48-foot steel sailing cutter of his own design, on which he has done extensive ocean cruising, including a solo voyage 9,000 miles from Panama to Guam and two Panama Canal transits.
In 1993 Mr. Bracken finished building a 48-foot steel sailing cutter of his own design, on which he has done extensive ocean cruising, including a solo voyage 9,000 miles from Panama to Guam and two Panama Canal transits.
Matt is a self-described freedomista who loves ocean sailing for the pure freedom it often permits. He is a constitutionalist who believes in the original intent of the founding fathers of our country. He lives with his family in North Florida and longs for the wide blue ocean.
Matt Bracken is a widely loved writer as well.  His publications include: Enemies Foreign and Domestic, Domestic Enemies, Foreign Enemies and Castigo Bay.
Matt writes the following as a personal introduction to his work as a writer:
I began writing Enemies Foreign And Domestic in 2000, after too many years of watching our constitutional republic morphing into a police state. These novels, based upon nearly a half century of carefully studying historical patterns, are my attempt to shine a light forward in time. My goal is to warn my compatriots that we are inescapably losing our freedom, one ratchet-click at a time.
The Muslim terror attacks on 9-11 kicked the process into high gear. But instead of new laws targeting our actual enemies–radical Islamists bent on the global spread of their Sharia Law nightmare–the new police powers were aimed equally at all Americans. Projecting forward, the inevitable outcome will be to turn the United States into a dictatorship–the USSA, if you will.
The federal government, under the rubric of fighting a generalized terror threat, has for many years been providing local police departments with high-grade military weapons, equipment and training. The quid-pro-quo for this federal largesse is unquestioning local cooperation with federal law enforcement agencies, turning thousands of local police SWAT teams into force multipliers for burgeoning federal police power. In the name of fighting a murky and undefined "war on terror," we have allowed the creation of a militarized national police force, something which our Founding Fathers explicitly warned us against and tried their best to prevent.
During the same period, our debt-based economy has nearly reached the bitter end of the fiat-currency road. It is only a matter of time until America experiences an economic crisis on the level of what is currently taking place in Greece, or even far worse. If and when federal entitlements, food stamp payments, housing allotments and all the rest are curtailed, I believe our major urban areas will explode in riots beyond anything America experienced in the 1960s. This will cause a breakdown in the national distribution of food, fuel and other commodities necessary to sustain life. At that point, some form of martial law will be put into effect, and our newly-militarized national police forces, along with active-duty military units, will be called upon to "restore order." In so doing, the last nails will be hammered into the coffin containing our legacy of American freedom.
Obviously, I don't desire to see this happen, but if such an outcome is preordained, I want at least to shine a beacon into the future. My goal is to provide my readers with some possible alternatives that will be less horrible than the worst-case scenarios, which otherwise shall be arrived at by chance and happenstance.
This is why I prefer to write what I call semi-dystopian novels, set in the near future. The post-apocalyptic genre has been beaten to death, and life in the rubble at a bare survival level provides few practical lessons. To me, the slide is more instructive than the post-collapse period. The often-repeated historical process of economic collapse and the loss of freedom is what interests me the most, and that is why I am driven to write these novels. I hope that you enjoy them, and that you gain some insights which might prove of value during the tumultuous years ahead.
Folks, may the Lord bless you with a powerful and productive day.  This month we continue to ask that all of our loyal Global Star Radio Network listeners and Blog Talk Radio listeners take a moment to visit the Official Hagmann and Hagmann Report YouTube Channeland subscribe.  If our loyal listeners will cruise over to YouTube and subscribe, our numbers would, overnight, give us the leverage that we need to mitigate some of the bald faced censorship that we are currently stuck dealing with everyday.
As always, on behalf of Team Hagmann, we thank you for your continued support, trust in us and most importantly, your prayers, as we navigate these crazy days together.  Saddle for battle.  The Hagmann and Hagmann Report is available every Monday through Friday at 7:00pm EST on three live platforms.
Jon Robberson is the Producer of the Hagmann and Hagmann Report.  Follow him on Twitter.